Enjoy the Dock and Boats!
Our private dock on Lake Rescue, a 184-acre lake that is one of a string of lakes along Route 100 in Southern Vermont, is just a just 2-minute walk up the dirt road of Benson Point, a quiet peninsula with about 10 houses. There you will find a canoe and two kayaks, as well as oars, paddles, and life jackets in a variety of sizes from oversized adult to infant. Fishing and swimming off the dock are popular activities, or just settle into an Adirondack chair with a good book.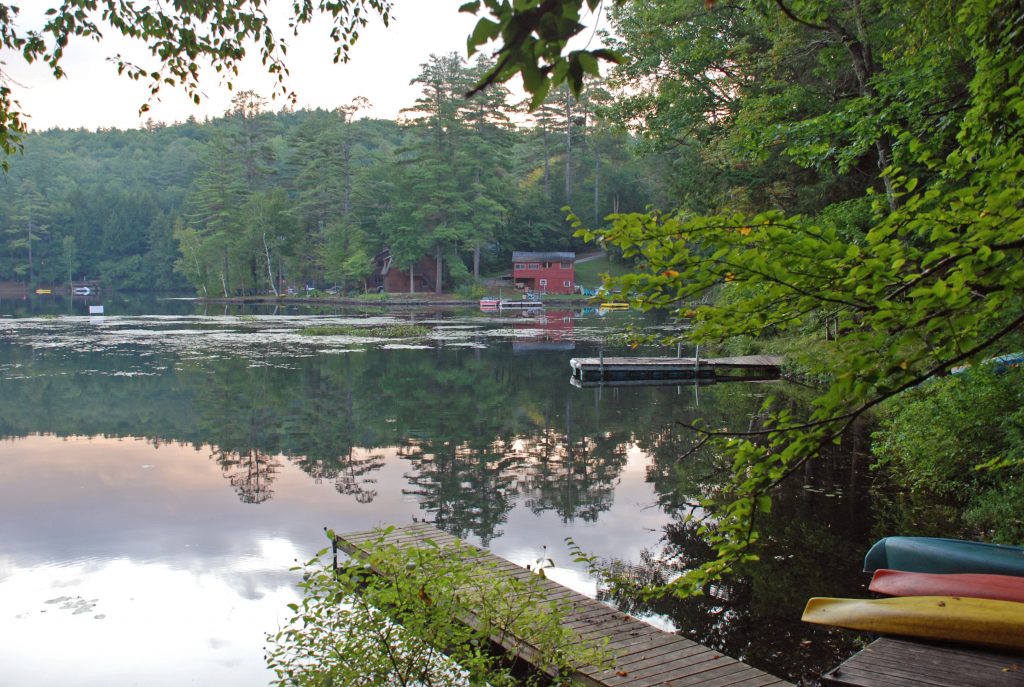 Lake Rescue is the largest lake in the Central Vermont Lakes Region. It's shaped like a figure 8, and our dock is tucked into a cove in the quiet northern end called Round Pond, near where the Black River feeds into the lake. This bucolic location means we have the best fishing and a quieter lake experience, as most of the motorboats operate on the larger part of the lake. It also means we have some murk, lake plants and frogs, not a sandy beach.
If you want to bring your own boat to tether to our dock during your stay, there is a public boat access across Round Pond on Fishing Access Road.
There is Eurasian Millfoil on the lake, which the Lake Rescue Association is working to eradicate. Red buoys mark the places where the largest clusters of millfoil have been found. If you bring a motorboat on the lake, please avoid those areas.
Images of Lake Rescue
Lake Rescue changes personality depending on where you are in the lake, the season, the time of day, and the weather. It can be calm and peaceful or active and cheerful.
A Birdwatcher's Paradise
Birdwatchers and nature lovers will enjoy watching the birds that nest by the river and along the edge of the lake, including a loon couple, great blue herons, snowy egrets, a variety of ducks, barred owls, and even the occasional bald eagle visitor. Here are a few recent sightings. Check out the Birdwatching photo album on our Facebook page to see more!