Our Top 20 Summertime List
Here is the Greenawalt Family's Top 20 (or so) List of Stuff To Do In Vermont in Summer!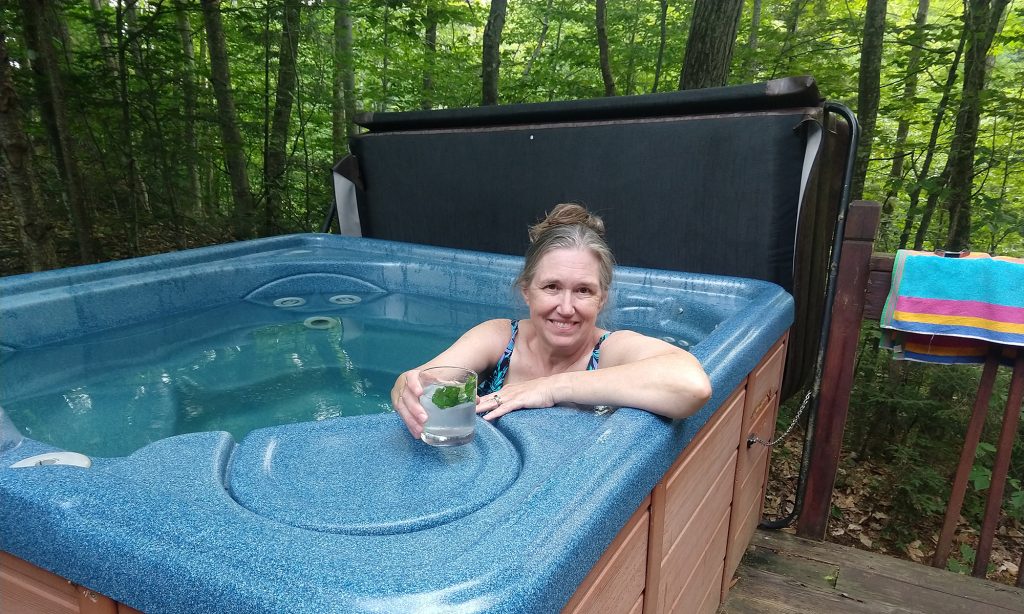 Go for a boat ride first thing in the morning, when no one's around and the mist is rising from the lake. Sometimes the loon yowls or the eagle hangs out on a tall pine tree on Discover Island.
Go for a kayak under a full moon. (Don't forget a flashlight to find your way back to the dock!)
Go for a boat ride at night during the Perseids Meteor Shower (mid-August). Check www.nasa.gov for the best viewing times.
Walk north on Rte. 100 half a mile to the Tiny Pond Wilderness Area and hike to the top of the trail. (It's hard!)
Drive to Lake Nineveh and kayak. (Right on Rte. 100, left at Echo Lake Inn, fork left onto Lake Nineveh Rd., follow to end, turn left, watch for a fishing access road on left.)
Drive, bike or boat to the Red Bridge at the other end of Lake Rescue to swim. Climb over the dam and swim or boat in Lake Pauline!
Kayak out to Discovery Island in the middle of Lake Rescue and have a picnic. There's also a rope swing on the south end.
Go bird watching up the Black River by boat at dusk. You might see the great blue herons! Paddle around the peninsula to the left of our dock, and continue to the left till you find yourself on the river. There is also frog and fish-watching to be had.
Ride a bike around the lakes. Go north to Hawk Mountain Resort, turn right, and follow Scout Camp Road all the way around lakes Amherst, Echo, Rescue and Pauline. Come out at Route 100 at the end; turn right back to the house. It's about 14 miles. There are a couple of stretches of dirt road (you need fat tires or at least a hybrid) and some KICKASS hills. The scenery is awesome.
Hike down to Buttermilk Falls.
Go swimming, lift weights, or take a yoga class at the Spring House at Okemo Resort's Jackson Gore base area.
Go to the Ludlow Farmers Market, Fridays from 4-7 PM at Okemo Mountain School.
Go for a five-mile run around Lake Rescue or Echo Lake. It's hilly but very rural and lovely.
Check out the Raptor Center (Vermont Institute of Natural Science, or VINS) in Quechee.
Bum around Woodstock; it has cute shops and restaurants, as well as a public pool with cheap admission, and outdoor concerts, a Farmers Market, a theater, and a movie house.
Stop for a snack and ice cream at the White Cottage on Rte. 4 near Woodstock. Bring your swimsuits and creek sneaks; there's a creek out back, and the kids can catch pollywogs and bring them home!
Closer to home, the Ludlow Cooking Company, located just past Black River Independent School on Route 103 in Ludlow, serves up Hershey's Ice Cream and lobster rolls on a covered porch bedecked with flowers.
Have lunch at the Long Trail Brewery (north on Rte. 100, right on Route 4 about three miles. It's on the right.) You can watch them brew beer weekdays. On nice days, eat out on the back deck along the river. Bring bathing suits and creek sneaks for the kids; they can play in the creek behind the pub when they're done eating. The food is fresh and excellent.
Go outlet shopping in Manchester, then drive to the top of Mount Equinox in Manchester.
Go play for the day at an adventure zone at a local ski area.
Enjoy free outdoor concerts in a variety of places.
Pop into DuJour VT for excellent cocktails and open mic on Tuesdays.
Spend a day at Camp Plymouth State Park at Echo Lake. Bring a picnic (or just go to the Snack Bar) and while the day away reading, playing on the playground, renting boats, lying in the sun, playing horseshoes or volleyball, or eating popsicles from the concession.
Hike the Vista Trail to the top of the mountain at Camp Plymouth State Park and be rewarded with an awesome view of Echo Lake.
Drive to the top of the Okemo Access Road, park, and hike to the mountain-top for a 360-degree view from a rickety fire tower. (At your own risk!)
Hike the Appalachian Trail South at Clarendon Gorge and cross the Bob Brugmann Suspension Bridge, then swim in the creek below.
Hang out on the back deck, or the hammock, or the porch swing, with a book and a pina colada.
In fall, go apple picking, pick a pumpkin and pet a baby goat at Wellwood Orchards in Springfield.
At dusk, drive to the Moose Crossing and wait to see if you're lucky enough to site one of those majestic creatures. (Turn right at the Echo Lake Inn, continue out Kingdom Rd. about five miles – watch for the homemade sign.) Be patient.
OK, so it's more than 20. There's so much to do!
Have an AWESOME vacation in Vermont!